Ninja Camp (2016)
Leap skillfully from card to card, gathering the right cards to corner enemy ninjas.
Good morning, campers! I hope you had a lot of sleep last night, because Sensei Saru has a full day of training in store for you! So study your lessons well, and be faster and more crafty than your fellow campers, as Sensei only invites the best to be his personal apprentices. Is it going to be you?!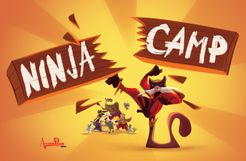 One of the Small Box/Big Fun series of Action Phase Games games, Ninja Camp pits animal martial artists against each other in a training exercise in which the best will be the personal ninja apprentice of Sensei Saru.
Each player begins with two cards, each representing a ninja skill, and the rest of the deck is a game board. While using the cards in their hands, players maneuver the board, applying new abilities to their hands—and leaving less moving opportunities for their fellow campers. Each player also has a special ninja skill that he can use once a game to try to turn the game to his own advantage. A game that sets up and plays in thirty minutes or less, Ninja Camp is sure to give families and potential ninjas hours of fun!