Kodama: The Tree Spirits
The forest is growing fast! As guardians of Kodama, the spirits of trees, you must keep the forest a safe and lush habitat for your little friends. During three growing seasons, you must plant trees with the right mix of flowers, insects and branching arrangements to make your Kodama as happy as possible. Whoever matters most for their Kodama will be remembered for generations!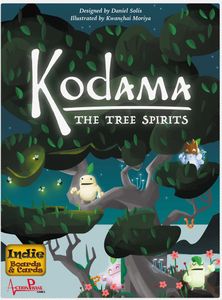 From the developer of the hit game Kigi, Kodama: The Tree Spirits are branching out into a cool new way to play! Grow your tree by placing cards in clever shapes, making sure you leave room for future growth. At the end of each season, one Kodama will give you an indication of how well your tree suits its needs. Beautiful sculpture and creative mechanics, Kodama is an inTREEguing game for the whole family.
AWARDS & HONORS Attained
2016 Mensa Recommended
2016 Golden Geek Best Card Game Nominee
2016 Golden Geek Best Board Game Artwork & Presentation Nominee